Before creating an inventory of URLs and metrics, it is important to decide what kind of content you are going to review. You can audit your internal content, such as blog posts, news, educational materials, product descriptions, and landing pages, or your external publications. You can also assess other types of content, such as video, PDF, or interactive content, such as quizzes, tests, and games.
What Are Content Audits & Why Are They Important?
Good quality, relevant and helpful content, now more than ever, is key to digital marketing success. The saying 'Content is King' wasn't coined for nothing after all! Great content enables you to reach specific target audiences with the useful information they are searching for. Delivering excellent content is a subtle gesture which shows a willingness to help readers and, as a result, attracts them to your site, assisting rather than interrupting their journey and encouraging them to interact with you.
Whatever the size of your business it is likely that you will have content available. Whether it is already written and on your site or waiting to be uploaded, just being planned or still in the heads of your experienced team. So, what do you do with it all and how do you make the most of it?
Content is a valuable resource and can add value repeatedly and across platforms if it is managed, optimised, repurposed and updated effectively. However, you may find that your content pile feels a little daunting even to think about. With no specific content focus, aim or purpose, the 'thing' that's meant to be 'king' can feel overwhelming and unmanageable.
The answer is content audits. Content audits are a hugely valuable part of any content strategy and can help you evaluate your content marketing strategies, giving you the opportunity to organise everything you have on record and help clarify your plans for additional content. In a time where marketing is striving towards a digital future, the importance of a structured content audit for successful content marketing growth has never been so apparent.
What is a Content Audit?
A content audit is an organised documentation of all content created on your site, giving you the opportunity to analyse, purpose and optimise existing content for maximum growth. Once you've collated all your content you can take a step back, see what areas are a bit thin, those that need focussing on and from there decide your next steps. That might include optimising, updating, creating, repurposing or maybe even deleting content to streamline and improve your content marketing efforts.
When conducting a content audit your goal should be to seek opportunities where you can further resonate with your target audience. In other words, making sure you are answering the questions your potential customers are searching for help with. Your content can address audiences' concerns, queries, and questions, attracting them through centring the focus on their needs as opposed to your business. A visitor that feels helped and supported has already started to form a relationship with you.
Content audits can also help you improve your site reach with effective SEO techniques giving you a better understanding of optimisation opportunities and highlighting where errors, such as broken links, should be fixed, to not only improve your site's SEO but user experience too.
By understanding what your target customers are searching for online you can provide the right content for them at the right time. In order to be clear on at content you need to be delivering you should have a good understanding of what they are searching for. Useful tools such as SEMrush or Answer the Public help you discover what people are searching for online by gathering data on different search terms being used around a specific topic. This allows for a better understanding of the content that should be created in order to target your specific users.
By ensuring that targeted keywords are implemented where relevant and meta data is optimised your content will perform better and rank higher in search results. Performing well on SERPs (Search Engine Results Pages) will transform the success of your content and deliver new and better qualified leads int your sales funnel.
Step 3: Collect and Analyze Data
Data collection is a complex and lengthy process. Usually, you have to recover data from multiple sources and add it manually to your spreadsheet. If you want to save time, use a content audit tool that automatically collects data according to your goals and metrics.
Connect your Google Analytics and Google Search Console accounts to add depth and breadth to your data. You'll be able to see additional metrics for each URL, including sessions, average session duration, pageviews, average time on page, bounce rate, and search queries.
To gather the performance metrics of your guest posts or any content published on third-party websites, you can use the Post Tracking tool. The tool tracks articles' keyword rankings, shares, backlinks, and referral traffic on a daily basis.
Google Analytics helps you to understand which content is performing best in terms of traffic, engagement, and conversion rates. You will also be able to estimate how effective your content has been in achieving your marketing and business goals.
Semrush Position Tracking allows you to track your rankings for target keywords. This tool can help you find content with good SEO potential (for example, web pages that ranked in the top 5 before, or pages ranking close to the top positions). By updating these pages, you can quickly reach better positions in search engines.
ContentWRX Audit. Using this tool, you can get information about your file types, metadata and page-level details that include images, documents, video, and screenshots of every page. You will also be able to sort your results, and export data for offline analysis.
Content Square helps you to analyze user behavior to understand what is and isn't working on your web page, and conduct a customer journey analysis accordingly. You can assess your page elements in terms of impact, performance, and usability to identify areas for subsequent updates.

How to Interpret Your Content Audit Data
For example, your web page can attract a lot of traffic, but have a high bounce rate and low session duration. This means that users are interested in your topic, but the content didn't offer them what they wanted. In this case, you have to assess different elements of your content to understand why users are leaving your web page. The problem can be rooted in your content's relevance to titles, CTAs, or the page load time.
You should also take into account the different stages of the buyer's journey. Your 'Awareness' content may attract more traffic, but have a lower conversion rate. Your 'Consideration' content may have less traffic, but generate more leads, and so on.
Assess Your Content Assets
The content audit might help you find the web pages that are not performing well. Try to review this content and figure out how you can make it more effective. You may also find some content with outdated information that needs to be revised.
If you are unable to improve a piece of content, or an update would take too much resource, removing it from your website may be an acceptable option. You may also have some old seasonal marketing campaigns that are no longer needed.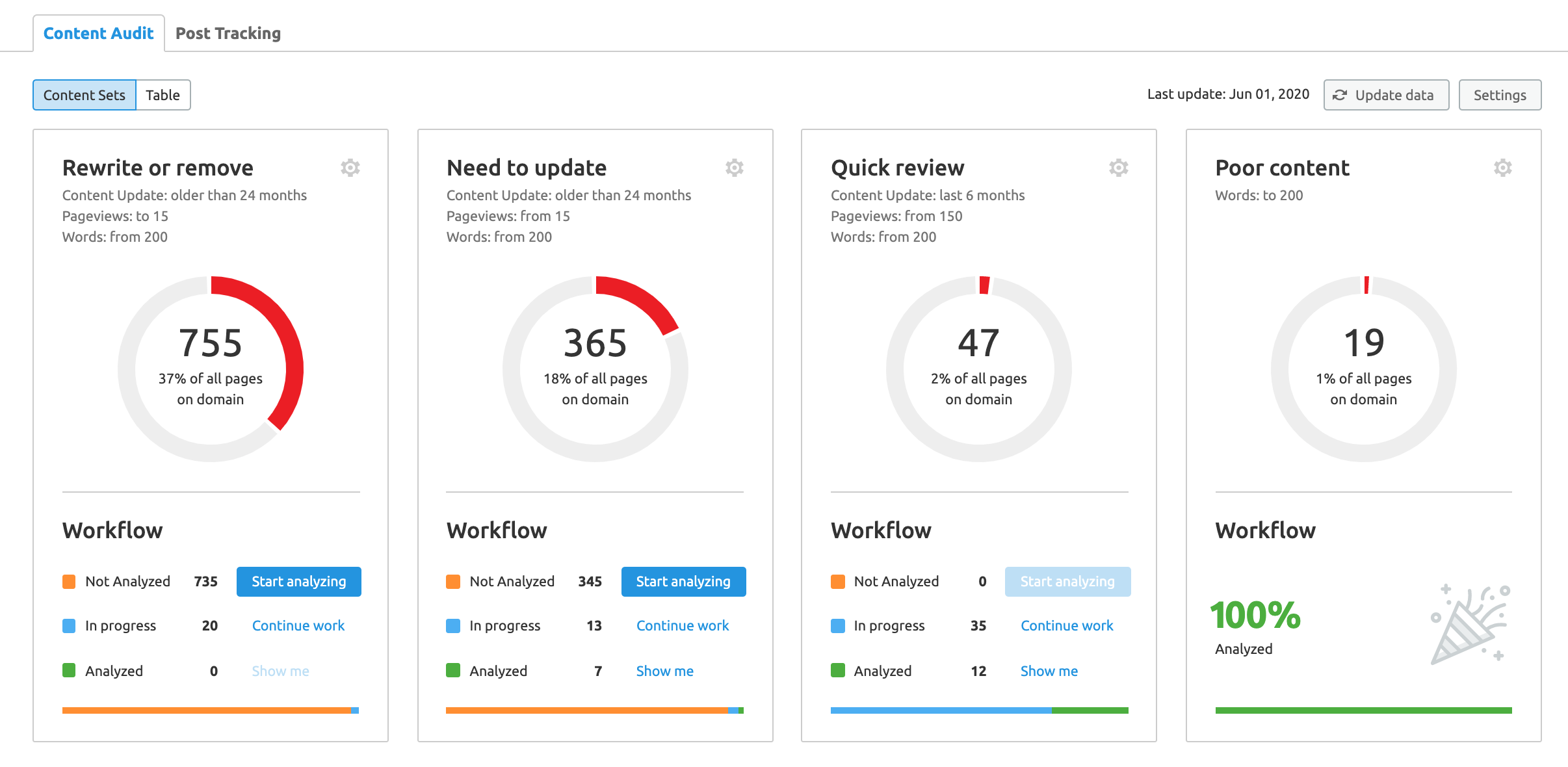 Step 4: Draw Up an Action Plan
Prioritize Your Actions

Create an Action Plan for Each URL
Expand your content: Consider adding more detail to your existing articles. According to our study, longreads of 3000+ words get 3x more traffic, 4x more shares, and 3.5x more backlinks than articles of average length.
Structure your content: A clear and logical structure with relevant H2 and H3 tags can help users and bots better interpret your content, and thus boost your traffic. Besides, well-structured how-to articles are more likely to rank for Featured Snippets.
Update your CTAs: You might have some outdated banners on your blog or other web pages. Replace them with relevant offers to reactivate your content marketing funnel and improve your conversion rates.
Add videos: Incorporating video increases traffic to websites, according to 87% of video marketers surveyed by Wyzowl. What's more is that 81% also said their users spend more time on web pages containing video content.
Add images: It can make your content more engaging and attract more traffic to your website from Google Images. By integrating videos and images on a web page, you increase the chances of appearing in SERP features.
Optimize internal linking: Add links pointing to new articles in blog posts with related topics. This can help to improve your website organization, and decrease your bounce rate. You can also optimize your internal linking according to the buyer's journey: Awareness content should link to Consideration articles, and Consideration articles should link to Decision content, not the other way around.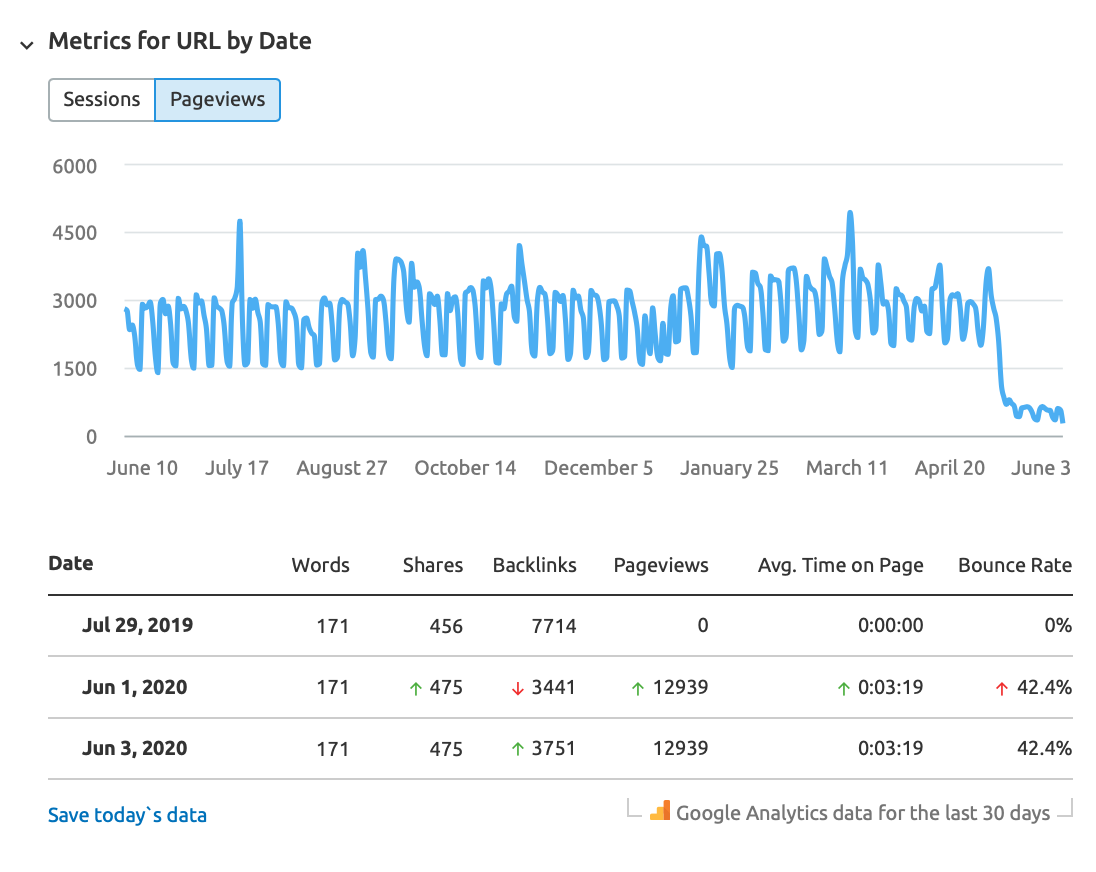 Making Your Content Audit Last
Once you have completed the content audit process, you should have a clear path to improve performance and effectiveness. Most websites have gaps in one or more of the areas identified above. The key is to use your audit to drive improvements over time and adjust your content strategy accordingly.
With this said, be realistic about your capacity to fix outstanding issues. Depending on how much content you have, a full content audit might take more time than you have resources for. In that case, a lean audit like the one mentioned above might be your best bet.
Regardless, success depends on your ability to maintain high standards over time. Run through audit results with your entire content team so everyone understands where gaps exist and how to address them. While you may not be able to fix everything at once, if you're diligent about improving content quality and train your team accordingly, you will see results over time.
Sources:
https://www.innovationvisual.com/knowledge/what-are-content-audits-why-are-they-important
https://www.semrush.com/blog/content-audit-for-content-marketing-strategy/
https://www.mightybytes.com/blog/how-to-run-a-content-audit/